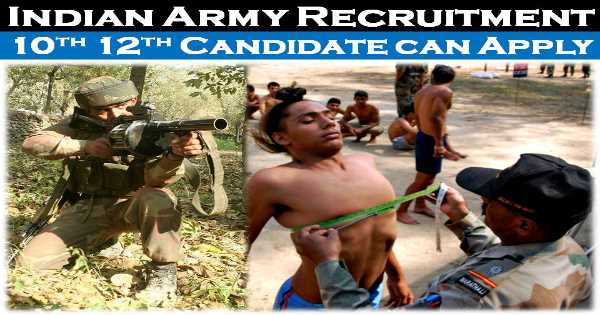 Army Recruitment Notice सेना मे भर्ती होने वाले अधिकारी एवं जवानों के लिए महत्वपूर्ण तत्काल सूचना Army Recruitment Notice  – IMPORTANT URGENT NOTICE FOR RECRUITMENT IN THE ARMY, SENA BHARTI NOTICE
AADHAR CARD: ADMIT CARD WILL ONLY BE DOWNLOADED AFTER UPDATING CORRECT AADHAR NUMBER IN CANDIDATES PROFILE.
Variation in Name date of birth in 10th Certificate/AADHAR: In case of variation in the name and date of birth between matriculation/10th certificate and AADHAAR, candidate are advised to enter their name and date of birth as per their matriculation certificate. Details on AADHAAR card may be amended accordingly through the nearest Aadhaar Service Center and Registration process be completed with UIDAI Enrollment number.
ONLINE REGISTRATION
1.   कृपया सुनिश्चित करें कि आपका नाम, जन्म तिथि और पिता का नाम आप के आधार कार्ड  एवं आपके मैट्रिक सर्टिफिकेट/ हाई स्कूल से मिलता है।
२.   यदि आपका नाम, जन्म तिथि और पिता का नाम आप के आधार कार्ड एवं आपके मैट्रिक सर्टिफिकेट/ हाई स्कूल से नही मिलता है तो आप कृपया निकटतम आधार केंद्र से संपर्क करें या वहाँ जाएं एवं यूआईडीएआई वेबसाइट और मैट्रिक सर्टिफिकेट के अनुसार यूआईडीएआई विवरण में संशोधन करें।
3.   यदि आपने आधार संख्या के बिना पंजीकरण किया है, तो अधिकारी चयन के लिए एसएसबी साक्षात्कार एवं जेसीओ ओ आर भर्ती रैली में भाग लेने की कार्यवाही से पहले अपडेट करें।
4.   चयन के सभी चरणों में आधार का प्रयोग करने के लिए आधार का उपयोग किया जाएगा।
जिस भी उम्मीदवार ने एक बार से अधिक पंजीकरण किया है, उसका पंजीकरण रद्द किया जा सकता है
आवेदन कैसे करें यहाँ क्लिक करें
5.  Notice: आवेदकों को सलाह दी जाती है की आवेदन करते समय रजिस्ट्रेशन सावधानी से करें, किसी प्रकार की छोटी सी छोटी गलती से आप का आवेदन रद्द हो सकता है, प्रोफाइल में हुई गलती की जिम्मेदारी स्वयं उम्मीदवार की ही होगी। अतः आवेदक फॉर्म भरते समय सावधानी बरतें।
6.  किसी प्रकार की त्रुटि एवं आवेदन रिजेक्शन से बचने के लिए आवेदकों को सलाह दी जाती है की ऑनलाइन फॉर्म भरने से पहले नोटिफिकेशन के अनुदेशों को ध्यान पूर्वक पढ़ने के बाद हे आवेदन करें।
सूचना: कोई भी आवेदक यदि आवेदन मे किसी प्रकार का बदलाव करना चाहता है तो आवेदन की अंतिम तिथि से तीन दिन पहले तक बदलाव कर सकता है, बाद मे कोई अनुरोध स्वीकार नही किया जाएगा.
Medical Notice: टैटू, गोदना, Tattoo: स्थाई गोदना या टैटू सिर्फ बाजू के अंदर के हिस्से (कोहनी के निचले हिस्से से कलाई तक) एवं हथेली के पीछे हिस्से पर ही मान्य है। स्थाई शारीरिक गोदना (टैटू) शरीर के अन्य हिसे पर मान्य नहीं है, एवं उम्मीदवार सेना भर्ती के लिए अयोग्य माना जायेगा तथा भर्ती प्रक्रिया से बंचित कर दिया जायेगा। अनुसूचित जन जाति उम्मीदवार जिनके चेहरे या शरीर पर मौजूदा रीती रिवाजों के अनुसार गोदना बना हुआ है उन्हें चयन प्रक्रिया के लिए अनुमति जाँच पड़ताल के बाद ही दी जाएगी।
Notice: Any candidate wish to change his profile in the online application, he may amend the same before last 3 days of the online application date.
IMPORTANT NOTICE FOR SOLDIER NA BHARTI 2018 CLICK HERE
IMPORTANT URGENT NOTICE FOR RECRUITMENT IN THE ARMY
Army Recruitment Notification – Army Bharti Notice II
1.   Please make sure that your Name, Date of Birth and Father's Name matches on
your Matric certificate and Aadhar card.
2.   In case it is not matching, please approach the nearest Aadhar center or go to
UIDAI website and amend UIDAI details as per Matric certificate.
3.  In case you have registered without Aadhar number, please update before
proceeding for SSB interview for officer selection or before attending a recruitment rally
for JCO/OR Selection.
4.  Aadhar Card will be used to carry out biometric verification at all stages of selection.
NOTICE FOR ARMY RECRUITMENT
1.   दिनांक _________ 2018 से आर्मी भर्ती के नियमों मे बदलाव किया गया है जो की इस प्रकार से है:-
2.   5 मिनट 40 सेकेंड की जगह 5:30 मिनट के भीतर 1.6 किलोमीटर (1600) की दौड़ पूरी करने पर 60 अंक मिलेंगे। जबकि 5:31 मिनट से 5:45 मिनट का समय लेकर दौड़ पूरा करने पर 48 अंक मिलेंगे।
3.   सैनिक लिपिक सोल्जर क्लर्क और स्टोरकीपर के लिए इंटरमीडिएट में 50 की जगह 60 प्रतिशत अंक अनिवार्य होंगे।
Notice: Applicants are advised to be alert while registering online application. Your application may be cancelled due to a  minor mistake. The responsibility of the profile itself will be the responsibility of the candidate itself.  Therefore, take care and be alert  while filling the application form.
AADHAR CARD: Admit card will only be downloaded after updating correct AADHAR Number in candidate's profile.
ARMY NOTICE FOR NCC CANDIDATES
NCC 'C' Certificate holders who have participated in Republic Day Parade at New Delhi are exempted from Common Entrance Examination (CEE) for recruitment into Soldier Clerk / Store Keeper Technical, Soldier Technical and Soldier Nursing Assistant Category and are awarded 100% marks in lieu of Common Entrance Examination (CEE).
Beware of Touts:  Recruitment process is fully automated. No one can help you in passing Physical, Medical or Written Examination. Only your hard work will ensure your selection.
ADMIT CARD WILL ONLY BE DOWNLOADED AFTER UPDATING CORRECT AADHAR NUMBER IN CANDIDATES PROFILE
थल सेना भर्ती कार्यक्रम 2018 ऑनलाइन आवेदन