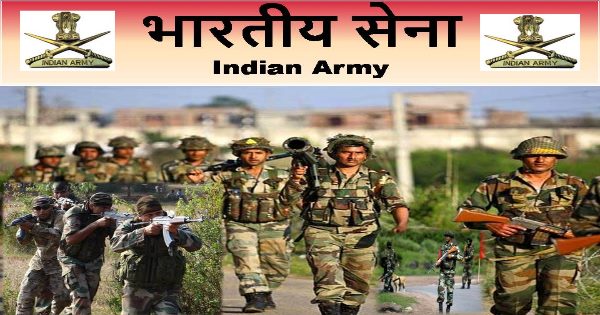 ARO Gopalpur Army Bharti Program 2020-2021: ସେନା ରାଳ୍ଳୟ ଭର୍ତି ଗୋପାଳପୁର, ବୌଧ, ଗଜପତି, ଗଂଜାମ, କଳାହାଣ୍ଡି, କୋରାପୁଟ, ମାଲକାନଗିରି, ନବରଙ୍ଗପୁର, ରାୟଗଡା, ନାଓପଦା ଆରମ୍ୱ ଭର୍ତି ପ୍ରୋଗ୍ରାମ 2020-2021. Army Recruitment Rally Bharti Sambalpur, Subarnapur, Sundargarh, Keonjhar, Jharsuguda, Deogarh, Dhenkanal, Bargarh, Anugul, Balangir Army Open Rally Bharti Schedule. Online registration/ online application army rally bharti ARO Gopalpur. Eligibility Criteria, allotment of bonus marks for relation candidates, NCC candidates, sportsman of ARO Gopalpur army rally bharti physical/ written exam/ final selection.
Army Bharti Age Limit
Indian Army Recruitment Category
Age Limit
Soldier GD
01-10-1999 to 01-04-2003
Soldier GD SC, ST, OBC
01-10-1999 to 01-04-2003
Soldier Tech, NA, Clerk, Tdn all category
01-10-1997 to 01-04-2003
Age Limit
17 ½ to 23 Years
Soldier Pharma
01-10-1995 to 30-09-2001
19 to 25 Years
Bonus Marks for Outstanding Sportsmen Indian Army Recruitment
Category
Soldier
General
Duty
Sol Clk/SKT,
Sol Tech, Sol Tech
(Avn & Amn),
Sol NA,
Soldier
Tradesmen

Candidates Represented India at
International level
20 Marks
20 Marks
20 Marks
Candidates Represented State at
National level
15 Marks
15 Marks
15 Marks
Represented District at State
level & secured 1st/ 2nd
position
10 Marks
10 Marks
10 Marks
Represented University or
Regional Team at State/
National level & secured 1st/
2 nd position
05 Marks
05 Marks
05 Marks
Award of Bonus Marks NCC Candidates/Computer Course/Sportsmen for All Trade/Category
Category
Soldier
General
Duty
Sol Clk/ SKT, Sol Tech, Sol Tech(Avn & Amn), Sol NA,
Soldier
Tradesmen

Son of Servicemen /Son of Ex-Servicemen/
Son of War Widow /Son of Widow
(One Son only)
20 Marks
20 Marks
20 Marks
National Cadets Corps 'A' Certificate
05 Marks
05 Marks
05 Marks
NCC 'B' Certificate Holder
10 Marks
10 Marks
10 Marks
NCC 'C' Certificate Holder
Exempted
from
Common
Entrance
Exam
15 Marks

Exempted
from
Common
Entrance
Exam
NCC 'C' Certificate holders who have participated in Republic Day Parade
Exempted
from
Common
Entrance
Exam

Exempted
from
Common
Entrance
Exam

Exempted
from
Common
Entrance
Exam

Candidates having O+ Level Computer Certificate issued by DOEACC Society
-
15 Marks
(For Clerk/SKT
-
ARO Gopalpur Army Recruitment Rally Latest Schedule 2020
ARO Gopalpur Army Rally Bharti
Army Bharti Program
Date of Online Application
Updated Soon
Aug-Sep 2020
Admit Card Downloading Date
Updated Soon
Sep 2020
Date of Army Rally Bharti
22-09-2020 to
29-09-2020 Tentative
Place of Recruitment Rally Bharti
Gajapati
District
Army Rally Ganjam, Gajapati, Kandhamal, Boudh, Malkangiri, Nabarangpur, Rayagada, Kalahandi, Noupada and Koraputi Bharti Programme
Trade
SGD, STT, CLK, SNA, STD, STA, TDN
Soldier Selection Process
Click Here
New Army Syllabus
Click Here
Indian Navy Bharti 2020
Click Here
Indian Air Force Recruitment 2020
Click Here
Relation Bharti
Click Here
Online Registration of Application
Click Here
Medical Test Army
Click Here
शिकायत कक्ष आर्मी रैली भर्ती: उम्मीदवारों की सभी प्रकार की शिकायतों का निराकरण करने के लिए सेना रैली भर्ती स्थल पर शिकायत कक्ष स्थापित किया जाता है। यदि किसी उम्मीदवार को शारीरिक दक्षता, ऊंचाई, छाती, वजन इत्यादि सम्बन्धी या किसी प्रकार भर्ती सम्बंधित शिकायत होती है तो आवेदक ऑफीसर इंचार्ज शिकायत कक्ष के पास जाकर पुनः माप तौल के लिए उसी दिन लिखित अनुरोध करना चाहिए। बाद में किसी भी प्रकार का अनुरोध स्वीकार नहीं किया जायेगा।
ARO Gopalpur Army Recruitment Rally: Indian Army Recruitment Rally Bharti  at ARO Gopalpur will also for following recruitment as per allotment of  vacancies:-
Relation Bharti: Relation recruitment rally bharti for son/brother of serving/retired/ ex servicemen of ARO Gopalpur, Through online application.
Outsider Army Bharti: Recruitment of Son/brothers of serving persons who are serving in the area of BRO Gopalpur through Outsider Sanction.
Army Sports Recruitment Rally Bharti: Sports Army Rally Bharti for Sportsmen recruitment in the Army for candidates of districts under ARO Gopalpur through online application.
DSC Army Bharti: Re-enrollment into DSC for ex-servicemen will be carried out as per program and vacancies by ARO Gopalpur. Ex-servicemen are advised to contact for DSC Recruitment Jobs Information. DSC Selection Procedure Click here
TA Recruitment Rally Bharti: TA Recruitment Rally Bharti Gopalpur of  State – CLICK HERE
Important Documents Required for ARO Gopalpur Army Bharti
Document Required for Indian Army Rally Bharti: Click here for preparation of following army bharati documents. Candidates are required to bring following documents/certificates in original with two attested photocopies with them to the rally site :-
Admit Card: Printed with Laser Printer on good quality paper (Do not shrink the size).
Photograph: Twenty copies of unattested Passport size colour photographs developed on good quality photographic paper in white background not more than three months old. Computer printouts/ photo-shopped photographs will NOT be accepted.
Education Certificate: Education Certificates with marks sheet in original of all educational qualifications achieved by candidate i.e Martic/Intermediate /Graduation etc from recognised School/College/ Board/ University. Provisional/Online education certificate should be certified ink signed by the head of the educational institution of concerned Board/University. Candidates with matric certificates from open school should bring school leaving certificate countersigned by BEO/DEO.
Domicile Certificate: Domicile Certificate with photograph issued by Teshildar/District Magistrate.
Caste Certificate: Caste Certificate affixed with photograph (Maharashtra State does not issue with photograph of the candidate issued by the Tehsildar/District Magistrate).
Religion Certificate: Religion Certificate issued by the Teshildar/SDM (if religion as "SIKH/HINDU/ MUSLIM/CHRISTIAN" is not mentioned in caste certificate.
School Character Certificate: School character certificate issued by the School/College Principal/ headmaster where the candidate last studied.
Character Certificate: Character Certificate with photograph issued by Village Sarpanch/Muncipal Corporation within last six months.
Unmarried Certificate: Unmarried Certificate for candidates less than 21 years of age with photographs issued by village Sarpanch/ Muncipal Corporation within last six months.
Relationship Certificate: SOS/SOEX/SOW/SOWW candidate are required to provide the following documents :-
Relationship certificate: Relationship certificate issued from respective records office only duly signed by records Officer with Personal number, Rank , Name and particular of the records officer issuing the relationship Certificate with office seal/stamp is endorsed.
Original Discharge Book of Ex-Serviceman also to be produced, Name and date of birth of the candidate must have been recorded in it.
NCC Certificate: NCC A/B/C certificates and Republic Day Parade certificate should have photograph of the candidate duly attested by issuing authority Provisional NCC A/B/C pass certificates will only be accepted if authenticated by concerned NCC Group Commanders.
Affidavit: Duly signed by candidate on Rs 10/- Non-judicial Stamp paper as per specimen duly attested by notary will be submitted by candidate.
Single Bank A/C, PAN Card & AADHAR Card: Single Bank A/C, PAN Card & Aadhar Card are mandatory documents for final selection for purpose of pay and allowances and other social benefits scheme.
Army Bharti Ganjam, Gajapati, Kalahandi, Kandhamal, Rayagada, Nuapada, Boudh, Nabarangpur, Koraput, Malkangiri