About Indian Navy Musician Ability Test Syllabus 2019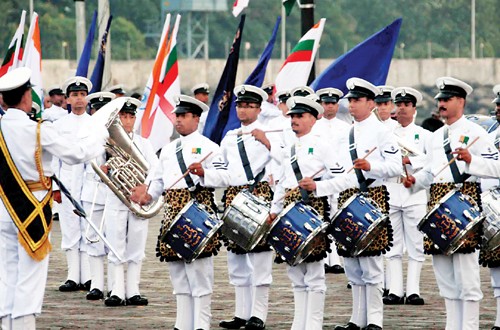 1. Indian Navy MR Musician Test Syllabus 2019: संगीतज्ञ भर्ती परीक्षा पाठ्यक्रम भारतीय नेवी, Indian Navy Musician Sailor Exam Syllabus 2019 batch, Musician Sailor Physical Syllabus, Musical Knowledge/ Instruments,  Selection of Musician will on Merit basis only, Details of Musician Sailor Syllabus for Indian Navy & Musical Ability Test MR Sailor are as under:-
Indian Navy Musician Sailor Important Information 
2. Age Limit Musician: Between 17 to 25 years of age
3. Education Qualification: 10th/Matric or Equivalent 
Physical Standard MR Sailor Musician 
4. Height: Minimum 157 cms
5. Chest: Chest expansion of 5 cms
6. Weight: Should be proportionate
Physical Fitness Test (PFT) Indian Navy Musician MR Sailor
7. Physical Fitness Test: PFT will consist of 1.6 Km run to be completed in 7 minutes, 20 squat ups (Uthak Baithak) and 10 Push-ups.
| Name of Post | Indian Navy Musician Sailor |
| --- | --- |
| Date of Online Application | 14-05-2018 to 27-05-2018 |
| Admit Card | June 2018 |
| Preliminary Screening | 09-07-2018 to 13-07-2018 |
| Final Screening | 20-08-2018 to 24-08-2018 |
| Preparation of Merit List | Sept 2018 |
| Commencement of Training | October 2018 |
8. Medical Standard: The Military Doctors will take the Medical Test to the candidates as the norms of Indian Navy.
9. Visual Standards: Visual Standards for recruitment as Musician Sailor will be as under:-
Without Glasses
With Glasses
Indian Navy MR Musician Sailor Musical Syllabus
10. Musical Ability Syllabus: Selection on Merit basis only. Should have proficiency in Aural Aptitude for music with accuracy in Tempo, Pitch and singing one complete song. Should also have actual practical skill on any instrument of Indian or foreign origin with proficiency in tuning of instrument, matching unknown notes with instrument, prepared piece, sight reading of Indian Classical/ Tabulature/ Staff Notation, performance of Scale/ Raaga/ Taala and basic theory of Indian or International music.
10. संगीत संबंधी योग्यता: चयन केवल मैरिट के आधार पर ही होगा। ताल, लय और एक पूर्ण गीत गायन में सटीकता के साथ संगीत के लिए मौखिक योग्यता में प्रवीणता होनी चाहिए। भारतीय या विदेशी मूउल के किसी भी साधन पर वास्तविक व्यावहारिक कौशल भी होना चाहिए जिसमे उपकरण की ट्यूनिंग में प्रवीणता, उपकरण के साथ नोट्स, टुकड़े, भारतीय शास्त्रीय/टैबलेट/स्टाफ नोटेशन की दृष्टि पढ़ने,
स्केल/राग/ताल और मुलभुत प्रदर्शन भारतीय या अंतराष्टीय संगीत का सिद्धांत।
11. Instruments & Proficiency Syllabus: The candidates would be required to perform with expertise on one or more instruments such as Wind Instrument, Keyboard, Guitar, Tabla, Mridangam, Pakhwaj, Dholak or any other instrument of Indian or Foreign origin. Candidates performing on Indefinite Pitch Instruments such as Jazz Drums set, Brass Drum, Snare Drums, Side Drums, Cymbals, Non Chromatic instruments such as Bugle & monotone instruments used to produce drone such as Ektara will not be eligible for recruitment.
11. वाध्य यंत्रों के प्रकार एवं प्रवीणता: उमीदवार को वायु उपकरण, कीबोर्ड गिटार, तबला, मृदंगम, पखवाज, ढोलक या भारतीय या विदेशी मूल के किसी अन्य साधन जैसे एक या अधिक उपकरणों पर विशेषज्ञता के साथ प्रदर्शन करने की आवश्यकता होगी। जैज ड्रम सेट, ब्रासस ड्रम, फेंक ड्रम साइड ड्रम, झांझ, गैर-रंगीन यंत्र जैसे बगले और मोनोटोने यंत्र ड्रोन उत्पन्न करने वाले जैसे एकतारा आदि पर प्रदर्शन करने वाले उम्मीदवार भर्ती के लिए पात्र नहीं होंगे।
Selection Process MR Musician Sailor
12. Selection Process: Selection of Musician MR Sailor for Indian Navy will be carried out in two phases as under:-
13. Phase I Preliminary Screening: Preliminary Screening Board for musician will be conducted in two phases. In the first phase, verification of age, education qualification, music certificates and musical ability of the candidate will be assessed. The candidates who are suitable to undertake final test will be subjected to the second phase of PSB. In the second phase, physical fitness test and initial recruitment medical examination will be conducted.
14.  Phase II Final Screening: Those who qualify the Preliminary Screening Board for musician recruitment will be required to undergo a Final Screening Board. All qualified musician sailor candidates  will be called to INS Kunjali, Colaba, Mumbai for final screening test, final medical examination and selection on All India Basis.
Official Link  www.joinindiannavy.gov.in to check MR Musician Syllabus,  Indian Navy Musician Syllabus,  Indian Navy MR Syllabus,  Indian Navy MR Musician Vacancies,  Indian Navy Syllabus for MR Musicians,  Indian Navy 02/2018 Syllabus,  Indian Navy 02/2018 MR Musician Syllabus, Indian Navy Sailor Matric Recruit (Musician) Syllabus,  Indian Navy Sailor Musician Syllabus in Hindi, Bhartiya Nausena Sangitagya Pariksha Patyakram.